COTX Networks Newsletter - June 2022
 COTX X3 Full Helium Hotspot  - On sale NOW! USD $349

New Product Release: COTX X5 - Standard LoraWAN gateway & Helium Full Outdoor Hotspot USD $499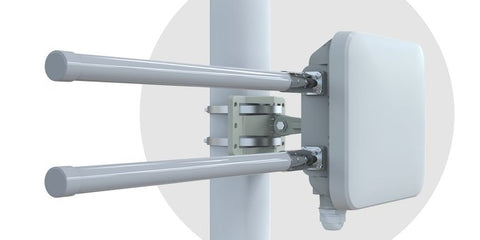 New Product Release: COTX X1 Lite - Standard LoraWAN gateway & Helium Data Only Hotspot USD $169
COTX Full hotspot, including X3 and X5, is not only compatible with the Helium network but also now supports standard LoraWAN protocol. It can be used either as a Helium Hotspot or as a standard LoraWAN Gateway. Both functions can work simultaneously without interfering with each other. So all Class A,B,C LoraWAN devices can connect to X3, X5 now.
More frequencies are available on COTX Hotspots NOW!
COTX X3 - Full hotspot, Helium miner, has got NTC Philippines, RCM Australia wireless certification obtained
COTX Full Hotspot X3 has passed Radio Certification in the following countries/regions: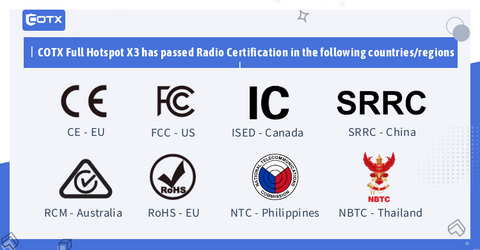 X3: FCC-US, CE-EU, SRRC-China, NBTC-Thailand, ISED-Canada, NTC-Philippines, RCM-Australia, RoHS-EU.
X5: FCC-US, CE-EU, ISED-Canada.
X1: FCC-US, CE-EU, NBTC - Thailand, ISED - Canada.
COTX Full Hotspot supports multiple mining features
COTX FlexiMining is in Beta testing?  - COTX FlexiMining help hotspot owner to run 3rd party mining apps on COTX Full Hotspot X3, X5.
News: COTX Networks and Computecoin Advance COTX FlexiMining Together - 3rd party mining app on the Helium Hotspot
COTX now is enlisting candidates for the FlexiMining - CCN mining beta test on COTX X3 full Helium hotspot
 COTX cooperates with TPMT to further explore 3rd party mining on top of COTX Helium Full Hotspot X3
COTX and TPMT plan to release new COTX X3 Alcrymist Edition, to further support multiple mining apps on COTX full helium hotspot X3.
COTX Petfon Smart Tracking
News: COTX Networks signed Agreement with Nova Lab(formally Helium Inc.) to advance IoT solutions - COTX Petfon Smart Tracking
COTX Petfon solutions will soon enter Beta testing
COTX is working on a new smart tracking solution based on the Helium network. This solution will help the customer use the Helium network to transfer GPS position information so that the customer can trace people, pets, vehicles, or any objects that our COTX Petfon GPS Tracker could be attached to. Any Helium hotspot owners and general consumers can benefit from this solution.
Reference:
Trackpac app support COTX Petfon GPS Tracker for Helium network tracking solution
We also welcome any 3rd party Application developers to create their smart tracking App based on our COTX Petfon GPS Tracker technology.
COTX New Products and Updates
COTX LoRa Tracker - PCBA is ready, accept bulk order and OEM/ODM NOW!
We also plan to release COTX Lora - Helium - LoraWAN Develop Kit so you could easily develop your Lora based device, application, Helium Console based application. If you have good idea, we'll support you to make it a real product, you can become COTX's business partner.
COTX Global Cooperation and Partnership
you have OEM and ODM requests about COTX hardware and software. COTX has good R&D and mass production capability;
you want to use COTX technology to build your App or IoT solution;
your companies or institutions - want to resell COTX hardware;
any open communities - if you need sponsorship or want to explore new IoT projects.
any good ideas about IoT, crypto, cloud service, etc.
If you have questions or suggestions, please contact COTX Networks at:
Email:services@cotxnetworks.com
Welcome to Join COTX Community: